Blogginlägg
Have we reached peak Corona in Swedish news?
I recently blogged about the site RadioText - a site that automatically transcribes Swedish news radio shows using AI services in Microsoft Azure. I realized I had plenty of data available for some interesting analytics, so I decided to scan all news from Swedish Radio Ekot since 2019-12-01 and were looking for words related to Corona/Covid-19. This info was then visualized in a graph using PowerBI to show the correlation between to the statistics from Swedish authorities.
Below you can see the graphs (Swedish). The graphs are based on automatic computer transcription and is not 100% accurate but should show the overall trends. It has analyzed more than 340 of broadcasts with more than 2 300 hours of audio. The numbers are the sum of each word per week. It's worth noticing that Ekot started to broadcast more episodes when the Corona crises began.
A quick reflection over the data is that initially "China" and "Virus" were mention quite often, but a few weeks later Corona became the most common word. During week 9 Italy peaked, as that was the week people from Stockholm went skiing there. The word "Crisis" started to become common around week 13/14.
Have we reached peak Corona?
But, to my question in the title - Have we reached peak Corona? According to my graphs we have, at least regarding the word Corona / Covid-19. It is starting to decline - or it's understood by everybody so that the word isn't used as much even if the news is regarding Corona.
Overview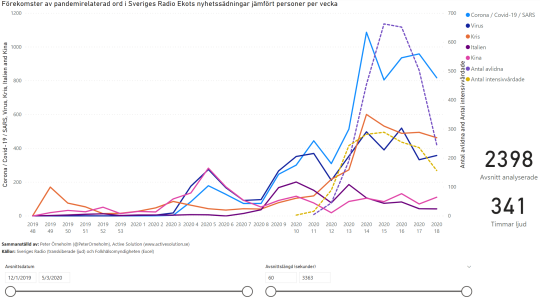 Niche words
Week 14